App Marketing, App Store Optimization
Guide to Apple Search Ads
18 January 2023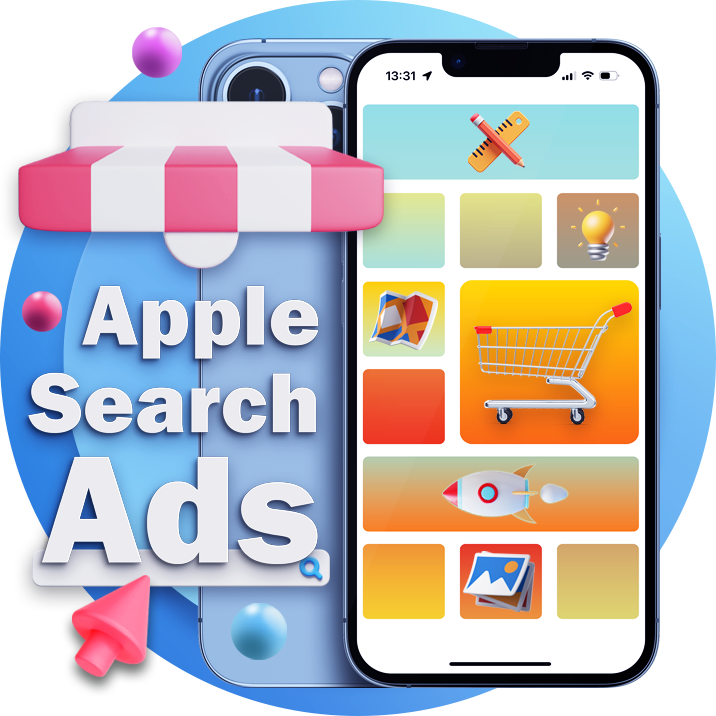 If your app is supported by iOS then you can't miss the opportunity to advertise it through the Apple Search Ads platform. Find out what types of campaigns and ads you have to choose from in Apple Search Ads, what are the best practices to consider when promoting your app through this platform, and what type of campaign is best to choose to achieve the best results.
Why use Apple Search Ads when promoting your app?
From 2008 to 2022, the number of apps available on the App Store grew from 500 to 1.9 million. This represents an increase of 379900%, and we can safely assume that this number will continue to grow further in the coming months or years.
While for smartphone users (there are about 600 million visits to the App Store per week) this means a very wide choice, for app developers it means a huge competition that is hard to break through.
In case our app belongs to a category where competition is particularly intensified, or on the contrary – niche, thus rarely found in searches, even well-enforced ASO (App Store Optimization) may not be enough for success. Then it is worth considering the implementation of paid advertising through the Apple Search Ads platform.
Ads aired through Apple Search Ads will be displayed directly in the App Store, which is a system application, meaning that it can neither be downloaded nor deleted and that it does not support the usual formats. This influences the fact that users acquired through Apple Search Ads are often more loyal to the downloaded app. This is another reason that convinces us that it is worthwhile to ensure that our app is highly visible in the App Store.
Apple Search Ads Basic vs. Apple Search Ads Advanced
Apple Search Ads offers two marketing solutions, known as Basic and Advanced. How do they differ from each other?
Apple Search Ads Basic
This solution is recommended for those who are new to marketing through the Apple Search Ads channel, or for those who want to save time by running ad campaigns that do not require a large contribution.
Basic campaigns, like all Apple Search Ads campaigns, are broadcast directly through the app store, providing an easy way to reach the right audience. When using Basic, Apple, with the help of artificial intelligence and machine learning, will do most of the work for us, and all we need to do to launch a campaign is to identify those key elements:
Budget of the advertising campaign (optionally also CPI target);

Campaign target (including locations where we want to broadcast ads).
The ads are automatically generated based on the above aspects and the application page, and we do not need to provide resources such as keywords or graphic creatives for the campaign.
Advantages of Apple Search Ads Basic:
Ease of campaign setup;

Time savings;

Control over spending;

$100 to spend on ads for new accounts (new account credit).
Disadvantages of Apple Search Ads Basic:
Lack of keyword selection;

No ability to fine-tune audience groups;

Limited access to Attribution API;

A limited number of apps that can be promoted.
Apple Search Ads Advanced 
As we can guess, this solution is aimed at more experienced advertisers willing to take additional steps manually to increase the effectiveness of the campaign. 
Probably the biggest difference between Advanced and Basic campaigns is that with individual Advanced campaigns it will be possible to specify issues such as the target audience or target keywords.
Apple Search Ads Advanced gives advertisers the ability to run different types of campaigns to which they can customize goals and budgets, as well as upload Custom Product Pages, which are ASA's response to unique creative resources in ad campaigns. 
Advantages of Apple Search Ads Advanced:
Ability to use keywords in specific types of campaigns;

Advanced ad targeting;

No budget limit;

No limit on the number of apps to advertise;

Full access to Attribution API;

Multiple ad formats to choose from;

Ability to use Custom Product Pages.
Disadvantages of Apple Search Ads Advanced:
The tool is more complicated;

Requires more time spent running and optimizing campaigns;

No funds to use for ads for new accounts.
Campaign types in Apple Search Ads Advanced
The Apple Search Ads Advanced tool gives us a lot of flexibility when it comes to the formats of the ads we broadcast. The types of campaigns we can run by selecting Apple Search Ads Advanced are:
Search Tab

Search Results

Product Pages

Today's Tab
Below, you'll read more about the different types of campaigns that Apple Search Ads Advanced allows you to run.
Search Tab
Search Tab advertising includes your mobile app's title, icon and subtitle, which have already been placed on the app's page in the App Store. It allows you to promote your app at the top of the list of suggested apps to increase awareness and downloads.
Search Tab ads present themselves as suggestions below the search engine inside the app store and use a CPM model, or cost per thousand impressions. 
Search Results
This type of ads appears above search results. To match ads to relevant searches, Search Results campaigns use keywords. You can choose your own keywords or use those suggested by Apple Search Ads based on your mobile app page. Also keep in mind the negative keywords you can use to keep your ads from appearing in unwanted places
Product Pages
This type of ad displays at the top of the "You Might Also Like" list to users who have scrolled through the pages of related apps in the App Store. No keywords are needed to create this type of ad, as Apple uses resources uploaded to the app page (such as the app's icon, title and text resources).
Today Tab
A campaign type that appeared in Apple Search Ads in October 2022. It gives you the opportunity to place an ad for your app on the App Store homepage, alongside app rankings, information about special events inside them and articles about changes and news in the App Store.
Today Tab ads are created based on the Custom Product Page, which you will read more about later in this article. 
Custom Product Pages – what are they and what do you need them for?
We already know that to create a large portion of the ads run through the ASA platform's Advanced version, Apple will use resources that are on the app page. Apple Search Ads will generate creative resources for your ads based on the screenshots and app previews you use in the organic store entry. So we need to remember that ASO should come first for us, and only then should we optimize our Apple Search Ads campaigns. 
And what if we want our advertising creative resources to be different from those of our application page?
That's when it's a good idea to use the Custom Product Page, with which we can personalize and customize resources such as: 
Screenshots

Preview of the application

Promotional text
With modifications to these resources and the ability to tailor creative aspects to specific goals, Custom Product Pages offer the opportunity to attract a broader or more specific audience demographic, which in turn can increase the chance of conversions and installations.
Before preparing a Custom Product Page, it will be necessary to understand its content requirements. Otherwise, you will face rejection by Apple, and the time for reviewing materials on the ASA platform is not the shortest. Therefore, it is a good idea to make sure that the very first resources we upload will be accepted to run ads.
Optimizing Apple Search Ads campaigns
We already know what kind of ads we can broadcast through Apple Search Ads, and the possibilities each of them offers. However, once we launch our preferred campaign, it will be important to pay attention to its optimization.
In addition to various settings for audience groups, budgets, or goals, Advanced campaigns give advertisers the ability to analyze and optimize them at any time. Apple provides us with the following dashboards for this purpose:
Campaigns dashboards

Charts dashboards 

Custom reports
They are useful for conducting analysis and reporting on campaigns, so that you can then carry out effective optimization based on the lessons learned.
When optimizing your campaigns, it is always a good idea to consider the following:
Regularly updating keywords in your campaigns on a regular basis will ensure that you avoid missing out on new search trends.

The use of negative keywords can help you increase the relevance of matching ads to your audience.

Campaign optimization suggestions from Apple Search Ads often help you save time.

App Store ad results depend heavily on properly executed ASO, so optimize your App Store app page before creating ads in Apple Search Ads.

Apple Search Ads is constantly evolving and offering marketers new settings, add-ons, or campaign types. So it's a good idea to stay on top of updates, such as by following the official Apple Search Ads news page.
Summary
There is no doubt that Apple Search Ads is one of the best-developed and, in between, one of the most easily accessible advertising channels for iOS app developers that can help increase downloads and organic ranking of mobile apps. Since it is the only way to promote apps directly on the Apple App Store, it is worth using it to increase brand awareness and generate more downloads. 
If you are interested in the topic of mobile app marketing, follow our blog and the App&More project.