App Marketing
Forget about downloads. Upgrade to a higher level of analytics in mobile applications
26 January 2023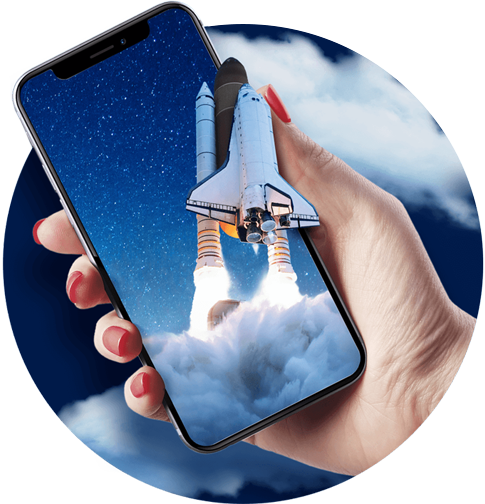 It will not be a secret that an element of a good mobile application promotion strategy should be fully implemented with and analyst tat will enable the collection of data about users, analysis of their behawior, verification of designated targets and campaign optimization. However not tools will be a key here, but a good plan, understanding and selection of metrics and a regular process of translating analytics into business.
In data science, you have to become a ninja and change your approach. Instead of saying "5,600 users clicked on this buton" you have to start asking "Has my user base increased or decreased? By how much? During what period? What has changed during this time?". Or instead of " Data shows that the last push message was send to 1,200 users, 348 people were clicked on te deep-link" use " What is the best frame for sending push notifications?". Isn't it easier to translate numbers into decisions now?
Start with indicators, they are the key
Metrics in analytics are simply data in the form of numbers, percentages, values. Of course, they are used to evaluate performance, effectiveness or measure progres over time. But not every metrics is KPI as they are reserved only for the most important metrics. So how do we seperate those, which are simply from those, which we should finally pay special attention to?
Primary examples of metrics include:
Scope

Clicks

Quality score

CPM – cost per thousand impressions

CTR – ad clicks through rate

Cost

CPC – cost per clicks
The purpose of KPI monitoring, on the other hand is to make specific marketing decisions, introduce changes to campaigns at different levels, or draw conclusions based on tests.
Depending on the approach and type of application, they may be many of them for e.g.:
Referral rate – how many users are attracted by an acquired user?

ARPU – average revenue per user

LTV – lifetime value of a user

DAU/MAU – the average numer of daily or monthly active app users

CAC – customer acquisition cost

Churn rate – how many users stop using the application after a certain time
In applications more than in web projects it count the user's value over time. This is crucial for understanding the difference compared to the web projects, where in fact each analysis takes place in a specific time, most ofren compared to marketing expenses and sales effect. So the most important thing will be profit (income-costs) and the results of ROAS. All this are set in specific time and broken down by source covers the market demand in 95%.
In the case of the applications, however, identical indicators cannot be used, mainly due to the element of attachment to the application (that's why it's often used the Concept of retention or active users). In other words, once acquired, a user correctly guided during the onboarding period has a much greater revenue potential than the first transaction/ action ( assuming a well – functioning product). So in your apps, you can't compare the acquisition costs with the effect over time. You should take into account the expected averange life value of the acquired user. How do I calculate?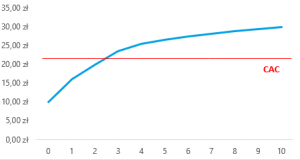 Drawing 1. Model for tracking user value over time vs. costs of obtaining
LTV calculation model consists three emelents:
ARPU – revenue factor

CHURN – maintenance factor

REFERRAL – viral factor
Finally the formula can be written as: LTV= ARPU x 1/ CHURN +REFERRAL VALUE, where ARPU is understood as mean user revenue, CHURN as the percentage of users you keep in the app and REFERRAL as how many new installs one users will on averange attract.
There are applications that are nor intended to directly generate finical indicators within the product. This applies both startups in the phase of dynamic growth (where the main goal is to maximize new users)., as well as other types of applications, such as social media, services, some mobile games or applications earning on advertising.
In this type of projects we should monitor activity, commitment and retention. Active users indicators over time, renow, or application – related indicators will be useful here. To calculate the latter, you can use a simple formula:
Stickness+DAU( from the selected period) / MAU ( from the selected period)
The closer to 100% the most often users use the application daily.
At the same time we have to remember, that on average 71% of users will leave the application after 90 days. This is one of the reasons why tracking installations as the only KPI is a mistake.
In addition to the indicators themselves, the work to be done ramains in the area of properly building a tracking plan. It can be divided into different areas giving space regular reporting:
Conversions

Life value

Average user revenue

Acquisition cost

Income

In-app purchases

Installations

Reinstallations

Active users

Speed of growth

Retention rate

New registrations

Active Users

Active users per day

Session length

Session depth

Time

Demographic data

Behavioral data

Crash

Errors number

Loading time
Choose one priority technology
Each of the systems has a little different definitions, user monitoring specifications and own integrations. There is no possibility of data unifications in each of systems, that's why there will always be discrepancies arose between them.
The market offers a fairly wide range of free tools such as Firebase, Facebook Analytics, and paid tools such as Appsflyer, Adjust, Kochava or Tune. Firebase is currently the most popular system requested by Google. It automatically collects 23 events and 13 users properties. An interesting added value of Facebook Analytics is the possibility of code-free configuration of events (no IT interference) and the possibility of data integration with Facebook Attribution system. In tern the most advanced system will be Appsflyer, which has its own attribution system, the largest numer of advertising partners for integration, a built-in system for deep links, or a custom dashboard configuration.
Use data from application stores
Internal analytical systems (simply anallytics build into application stores) allow you to monitor the most basic indicators:
Installation and uninstallation

Store traffic sources

Download rates

Updates

Opinions

A/B tests
An important element in the analytical approach to the application is the ASO element, i.e. the visibility of the application in stores. Up to 68% of people find new applications by searching or browsing application stores.
Thanks to the use of advanced technologies, such as Applweak, TheTool or AppFigures you will learn:
How individual searched keywords influenced the acquisition of users (including the separation of the brand and generic queries);

What keywords your competitors are using;

How you can optimize the visibility of the applications in stores;

What visibility your application obtains over time, both in the categories you are interested in and in terms of keywords;
In addition, after integrating the data with developer consoles in Google Play and the App Store, you will learn more about what percentage of users download the application after entering the stores, how many users go to the applications using keywords, and how many through browsing. To get a more complete picture, yo can, for example, compare the data with the avarage results of application from the same category. In Google Play it allows A/B tests to be used to present the application based on this information. Thanks to this you will verify which one will get higher downloadability.
Automate feedback management
Almost 80% of users read reviews about the application before downloading. At the same time, the average opinion about the application has a huge impact on this downloadability. The drop of this ratio below 4,0 your conversation rate will automatically drop by up to 92%. Tools such as appfollow.io will allow you to better categorize opinions, receive notifications and respond to them via Slack, and finally undarstand how they affect the visibility of the application in stores.
Get started using the Analytics Web+App now
Analytics Web + App is a completely rewritten encironment with a new data collection model, a different interface and metrics, but no backwards compatibility. Therefore, the tool requires new implementations.
Until now, tracking was based on events, page views, e-commerce module, in the new version there is only one type of interaction tracking i.e. events. Each event can have parameters  configured to better describe the user's behawior – the tracking model is the same for websites and mobile applications.
Analytics Web+App introduces automatic tracking of impressions, scrolling, clicks, external links, site searches, video engagement and file downloads. All those elements that used to require manual, custom configuration and implementation of addictional codes will now be automatically tracked. Additionally there will be no tracking by device ( i.e. standard cookies known to us on the selected device), but combined tracking using the user ID functions and the device at the same time. So tracking one person across multiple platforms will become more accurate and easier. You will also see reports related to the use of the product in the Web/ Android/ iOS at the same time. It will also be very important to introduce user vital value tracking, which is not achievable by standard in Analytics. It will become easier to build user paths and analyze user seqences. The industry – known bounce rate will completely disappear and the engagement rate will appear.
Additionally, important information for medium and large analytical projects. Data export to Big Query is free. One caveat: you'll have to pay to use BigQuery, but the's still around 150,000 $ in savings each year for access to raw data.
So you will probably ask if you should migrate to the new environment as soon as possible? The answer is no, at least for now. Web + App is still a beta version, the basic indicators that you are used to, such as page title or URL are not easily available, there is no seperate part of analyzing Google Ads, there are no Data Studio connectors. However there is nothing to prevent you from starting double – tagging now. 2020 will be full of new functionalities and improvements in Web+App environment.
What to remember when you are planning mobile analytics?
Start from performance indicators

Have a full event plan (event, parameter, trigger)

Adjust tagging to supported channels

Choose one priority tool

Build customer paths

Group users

Prepare your own dashboards