App Marketing
Campaigns promoting mobile apps – which channel to choose?
28 January 2023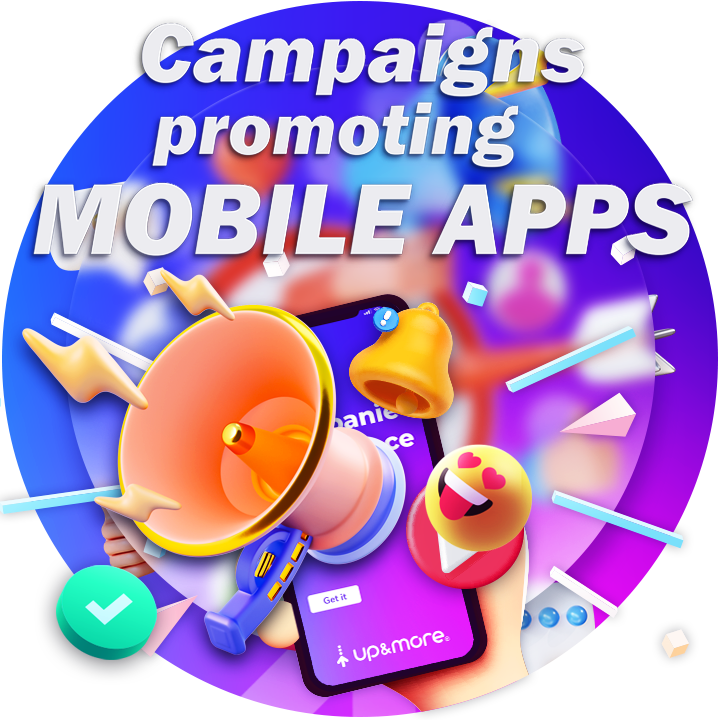 Mobile app promotion campaigns – in which channels to advertise?
Designing, writing, and thoroughly testing an application is only the beginning of a larger adventure. After all, it would seem that if an application is based on a creative, innovative idea, is easy and pleasant to use, and has no bugs that make it difficult for users to use it, then it is doomed to success. Unfortunately, the reality is like a bucket of cold water in this case, because even if our app meets all the above conditions, which are without a doubt a great start on the road to the aforementioned success, there is another issue that cannot be forgotten when releasing an app on the market. It is the users, without whom our application will be like a fish without water. A well-planned and enforced mobile app marketing can effectively help us to acquire them.
What advertising platforms to use when creating a campaign promoting a mobile app?
There is no single, irreplaceable way to effectively acquire loyal mobile app users, so in a situation where you want to promote your app fruitfully, it is worth first analyzing what type of media channels are out there and which one to consider when planning your marketing efforts. 
Google Ads Campaigns
Compared to other Google Ads campaigns, app promotion campaigns work a little differently. First of all, when deciding to run app ads in the Google Ads channel, we have a choice of three guiding campaign types, each of which is geared toward a different goal. These goals are:
Application installations;

Engagement with the app;

Pre-registration for the app (only available for campaigns targeting Android users).
This allows us to create a promotional campaign tailored to the results we want, or to run multiple promotional campaigns at the same time, which will allow us to attract new users, as well as increase the number of specific actions we want users to take in the app. The biggest advantage of working with Google Ads when conducting mobile app promotion marketing activities and observing and reporting on the results of these campaigns is that the platform is intuitive and easy to use, and with recommendations from Google, campaigns are easy to optimize on a regular basis.
The first thing Google requires is the resources needed to build a campaign. These include a budget, defining a strategy for the optimization of the campaign, and a specific number of texts of a certain length. 
Then we can add images, videos, and HTML5 resources to the campaign. Without these, we can also create a working campaign, but its effectiveness will be much higher if we add image and video creatives to the campaign. Using these resources, Google will create app ads, and also they have a significant impact on the final shape of the ad. 
The algorithm will also use Google Play search terms related to the category to which the advertised app belongs, so that campaigns that encourage app installation do not need to add separate keywords to them, as in the case of Google Search campaigns. Simply put, it is in the text resources submitted to Google Play that the relevant keywords need to be included to best position the app ad.
Advantages of app ads in Google Ads
The main advantage of ads run with Google Ads is their simple structure. This is because they are displayed across a wide variety of channels supported by the Google platform, namely Google Search, the Google Play app store, YouTube, the Gmail platform level, Google Discover, and the Google ad network.
In addition, Google will display mobile app ads where they are most likely to be clicked on and then downloaded by valuable users.
We also have the option to choose one of the Smart Bidding strategies to promote our app, so Google will automatically not only target the ads but also set the rates for them, while automatically rotating the ads and ultimately reducing the need to manually test the destinations to find the most effective ones. This is a huge time saver!
In addition to the opportunities presented to us by all of the aforementioned aspects, by using Google Ads to promote apps, we can also conveniently control the CPI rate.
Facebook App Ads
According to a report posted on the Meta For Investors platform, Facebook had 2.9 billion active users in July 2022. Thus, marketing opportunities on this platform are enormous, especially considering that when choosing targeting settings for Facebook campaigns, we have an almost endless choice of audience groups for them. Therefore, this channel should not be underestimated when planning marketing activities for application promotion. 
In order to start advertising on Facebook and Instagram through the Facebook Ads platform, we must first register our application at the Meta for Developers level. Use the articles on this page to set up everything you need, so that you can then track both app installations and events of interest from within the campaign.
In the case of app ads via the Facebook Ads channel, there are essentially two main campaign objectives that we can choose from at the stage of configuring its settings: campaigns optimized for app installations and campaigns that lead to a conversion event. This choice makes it easier to achieve the desired results, even in cases where we want more than simply increasing the number of app installations. After all, it is often a matter of acquiring a user who manifests certain behaviors, that is, for example, more likely to make a purchase using the app, or register for it using an advertised promotional code.
Ads that promote application installations run on the Facebook Ads channel broadcast them on three platforms – Facebook, Audience Network, and Instagram. This gives us different display locations for the ads, such as the Facebook homepage, Facebook Marketplace, Messenger, as well as Instagram Reels and stories.
When the ads are clicked, they lead directly to the app page in the Google Play store, or Apple App Store, allowing users to download the mobile app immediately.
Advantages of app ads run through Facebook Ads
A very important advantage of application advertising through the Facebook Ads channel is the ease of reaching the desired audience. Being one of the most precisely targeted forms of advertising, we will have the opportunity to advertise based on aspects such as age, location, gender, or detailed interests.
Besides, advertising on channels such as Facebook or Instagram helps us increase our brand's visibility in these all-important social media channels. And it won't be exaggerated to say that in the 2020s, there is one simple rule for any type of product – if you're not on social media it's as if you don't exist at all.
App ads on TikTok
One thing is certain – TikTok never ceases to surprise us. However, it is no surprise that the extremely accurate audience targeting capabilities and their ever-growing number (it is forecast that by the end of 2022 there will be 1.8 billion active users on TikTok) make this platform extremely attractive to advertisers. 
The issue that probably counts the most when creating ads for TikTok is creativity. Without it, we won't attract the attention of the audience scrolling through the main page of the app. especially considering the fact that users' interest in the videos they are watching needs to be attracted as quickly as possible, because if we don't get them interested in just the first few seconds of the video, they will move on to the next one without looking back.
To advertise your app on TikTok, we have many strategies to choose from. We can use the TikTok for Business platform and create a video to display to its users between videos on the "For You" page, or at the top of the page before they start scrolling. 
We can also partner with influencers who will create a short video promoting our app and post it on their profile. We will then have the opportunity to promote this video with Spark Ads on the TikTok for Business platform using a special link that makes it possible for us to place a video published on someone else's channel in the place of a creative resource, which will then be promoted based on the audience targeting and budget settings we provide. 
Another creative way to advertise mobile apps on TikTok is through the #HashtagChallenge, with which we increase brand visibility by inviting TikTok app users to take part in a multi-day challenge to repeat a dance, song, or other activity using a particular hashtag in their video. However, this is an outreach campaign, and in this case we will not have the ability to accurately track the number of installations or events resulting from the campaign.
Advantages of app ads on TikTok
The wide selection of ad types with which we can promote the mobile app on TikTok is one of the most important advantages of this channel. It also comes with the advantage of detailed audience targeting, which at this point is even more accurate than that on Facebook. This is because we can express a desire to target audiences who have interacted with a particular video or creator on the platform.
It is worth bearing in mind, however, that the cost per installs brought by ads run through the TikTok for Business channel usually tends to be slightly higher than on Facebook or Instagram.
So… which channel to choose?
Unfortunately, there is no single, simple answer to this question. Start by determining the goal you want to achieve by broadcasting your app's ads, and then determine the media budget and what creative resources you are able to provide to the advertising channels. Based on this, choosing the right channel should be easier, but keep in mind that it's best not to limit yourself to one medium, but to be present in as many channels as possible.
I hope that after reading the above article, choosing the right channel for promoting your mobile app will not be a problem for you. However, if you are still wondering how and where to effectively advertise your app and gain a group of loyal and engaged users – rely on the help of specialists with expertise in digital marketing! At Up&More, we know our stuff and are eager to make sure your app achieves the success it deserves! Get in touch with us today.